for the FACEBOOK site, please visit here :
Japanese Film Festival 2016 in Baguio city.
https://www.facebook.com/events/1731518007107393/
国際交流基金からの プレス・リリース
です。
film "Crossroads" screening is now added :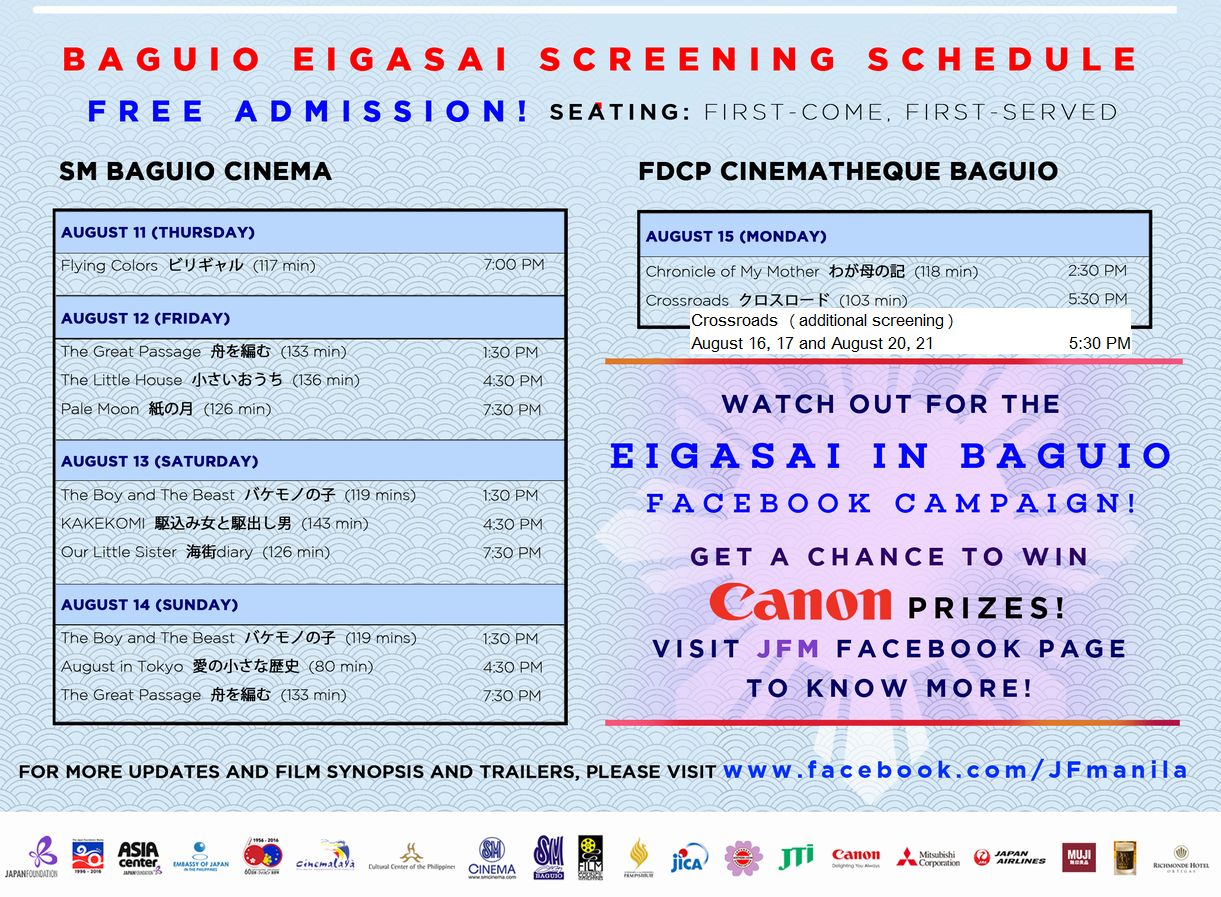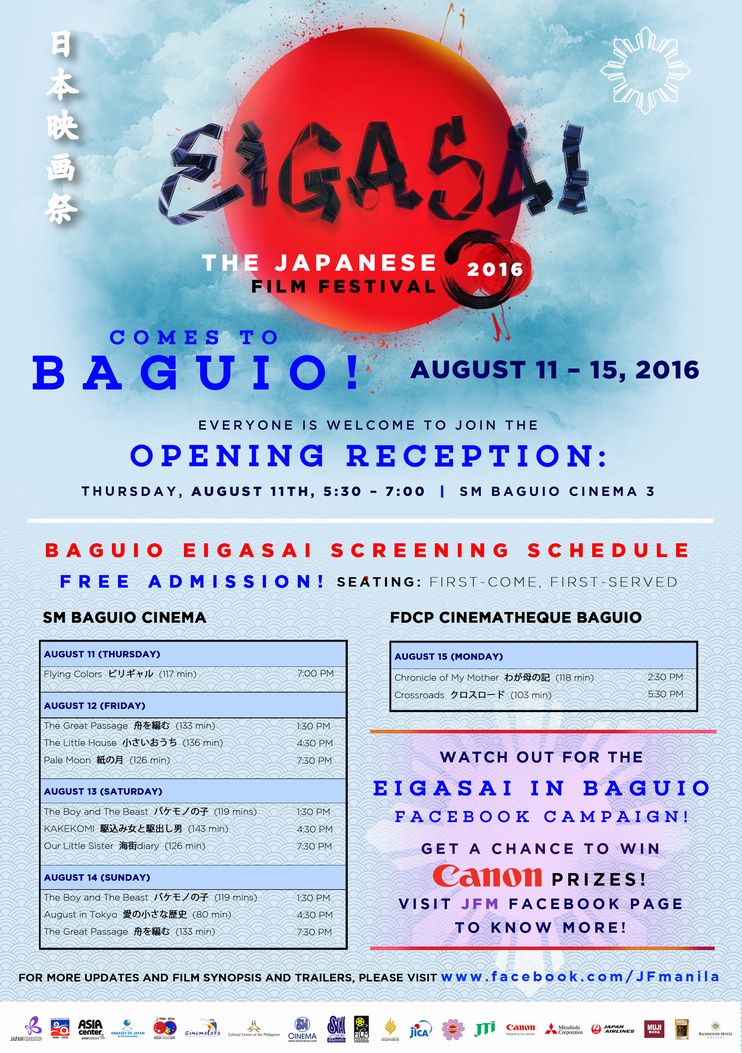 (Additional screening of "
CROSSROADS
" is now added as mentioned in
the below.
[JFM Press Release] July 21, 2016
Highly Anticipated EIGASAI Comes to Baguio!
Opens on August 11
with the Kawaii and Cool Youth Comedy
Film Flying Colors
The rebranded "Japanese Film Festival in Baguio" is now part of EIGASAI,
and brings recently released films to SM Baguio Cinema and FDCP
Cinematheque for free
The first ever EIGASAI was held in a small venue in Manila, one year
before the launch of the Japan Foundation, Manila (JFM) in 1997 with
a hope to further strengthen the cultural ties with the Philippines through
one of the most accessible gateway into Japanese culture, way of living
and language: Japanese films. Now grown to one of the most popular and
successful international film festivals in the Philippines attracting over
20,000 Filipinos annually, EIGASAI's main organizer, JFM—in cooperation
with the Embassy of Japan — is expanding its screenings to Baguio City
to accommodate fans of Japanese arts and culture in the northern regions
of the Philippines.
The first EIGASAI in Baguio
opens on August 11 at SM Baguio Cinema.
JFM invites everyone to grace the launch by joining the Opening
Reception from 5:30 pm just before the screening of Opening Film:
Flying Colors.
​​
Flying Colors
(Trailer in Japanese: https://goo.gl/KAdteC, 『ビリギャル』,
photo and English poster attached)is specifically handpicked as the
Opening Film for an academic city Baguio. A true story full of laughter
and tears that moved viewers all over Japan, Flying Colors is about a
girl called Kudo Sayaka (Arimura Kasumi), who attends an all-girl's high
school in Nagoya and enrolls in a cram school at her mother's behest.
Sayaka is indifferent to her studies, ranks at the bottom of her class,
and has the academic skills of a fourth grader, but she joins forces with
her teacher Tsubota (Ito Atsushi) and tries to pass the extraordinarily
competitive entrance exam for one of the prestigious universities in
Japan.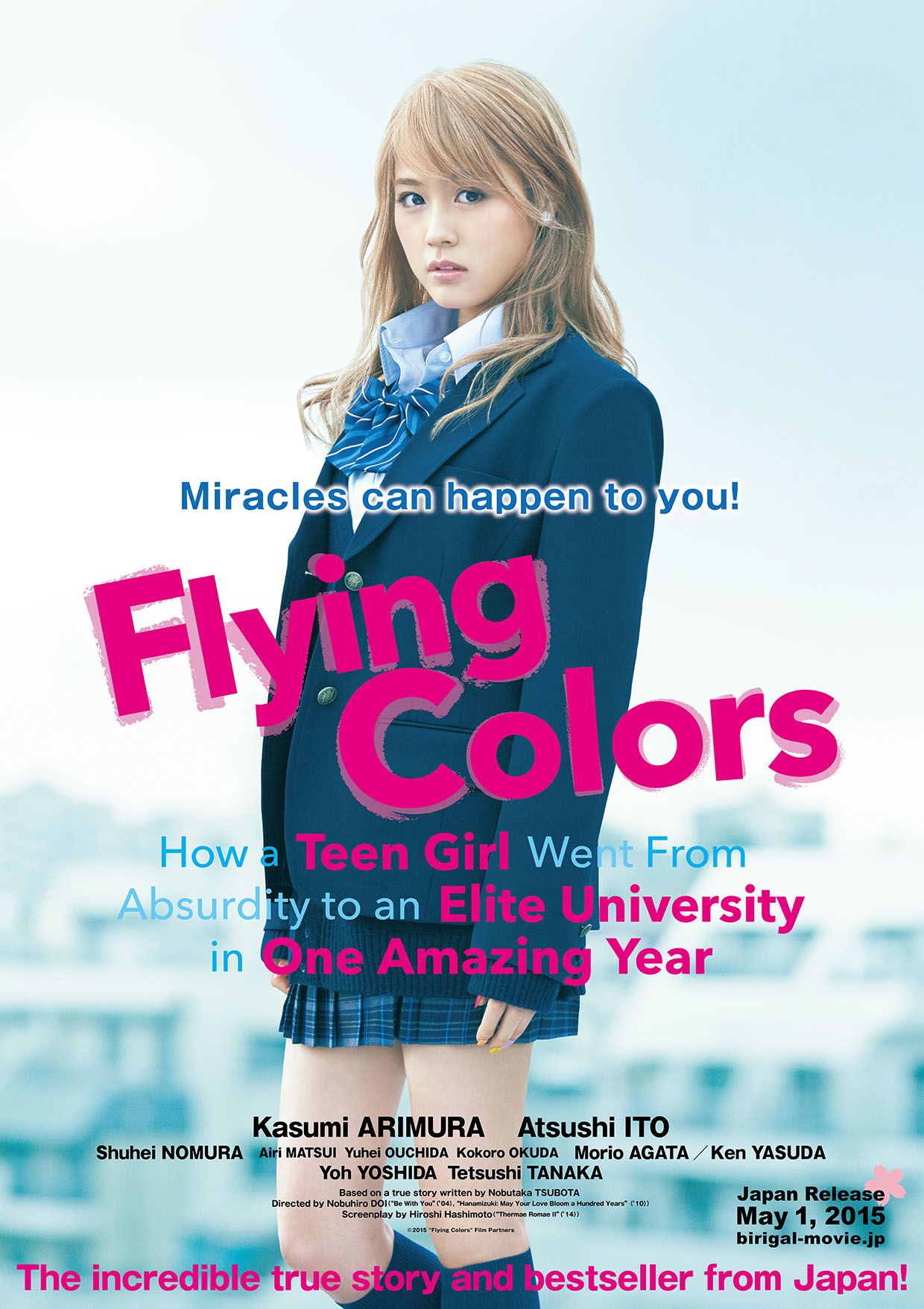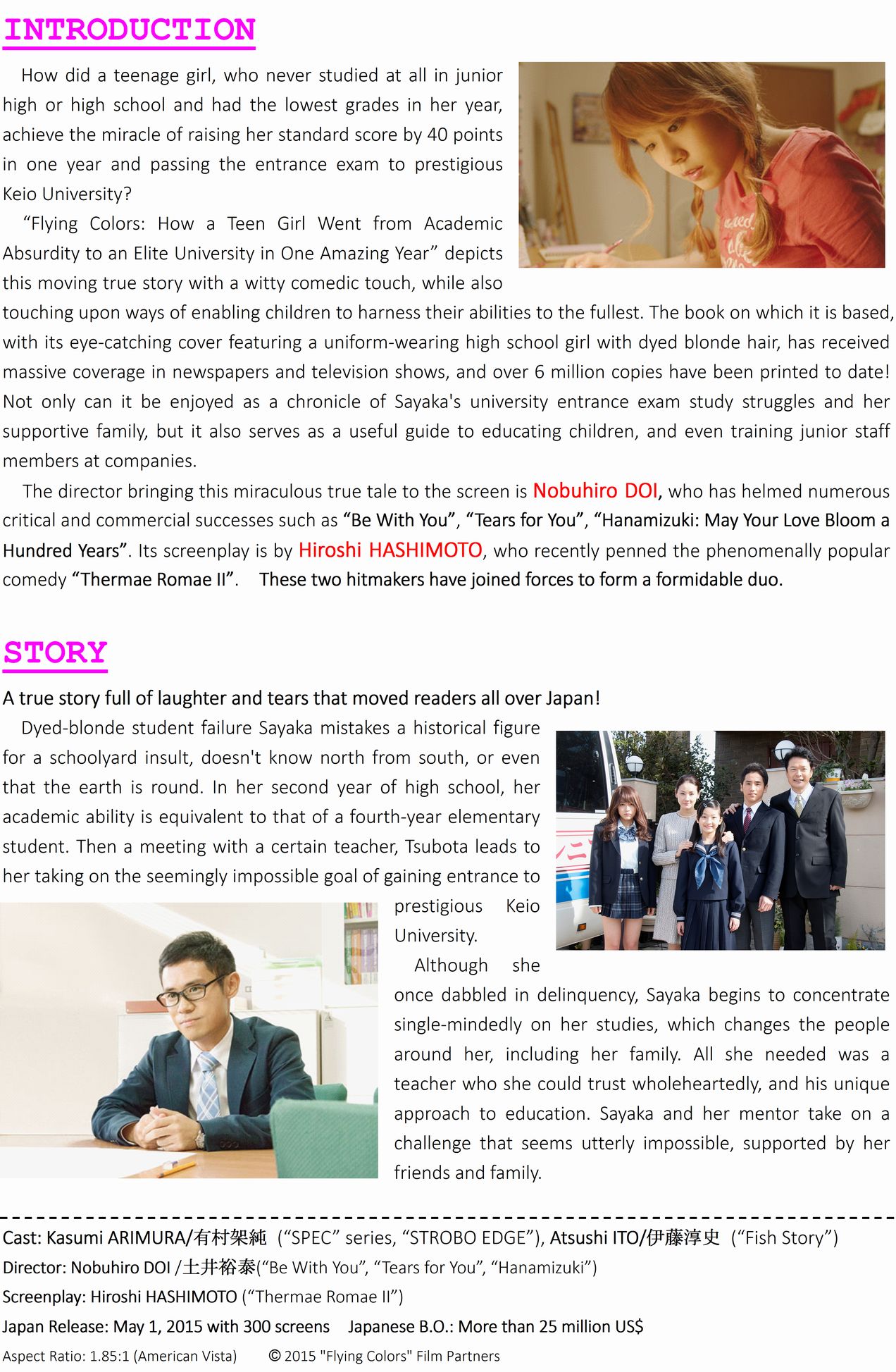 Another highlight in the line-up is a film set in Baguio City:
Crossroads (『クロスロード』

https://drive.google.com/folderview?id=0B7nH5guWhoDkMV9tZTlxd3hDdEk&usp=sharing&tid=0B6ecqsEoVQX5VGNUOU5ma01Da0U
)
which also features Filipino cosplay sensation, Alodia Gosiengfiao. In
addition to these two films, JFM carefully curated a total of ten recently
released Japanese films with English subtitles. Other films include:
August in Tokyo
(『愛の小さな歴史』),
Chronicle of My Mother
(『わが母の記』),
KAKEKOMI
(『駆込み女と駆出し男』),
Our Little Sister
(『海街diary』),
Pale Moon
(『紙の月』),
The Boy and the Beast
(『バケモノの子』),
The Great Passage
(『舟を編む』)and
The Little House
(『小さいおうち』).
The film trailers are available at
https://goo.gl/yZI4s8
. For the film
synopsis, please refer to the EIGASAI e-Flyer
​ ​
https://goo.gl/yZI4s8
. Updates will also be posted on the JFM Facebook
(www.facebook.com/JFmanila
).
All screenings are free
and seats are available on a first-come, first-served basis.
​​
EIGASAI in Baguio Facebook Campaign!

Celebrating the launch of EIGASAI in Baguio, JFM is organizing EIGASAI
in Baguio Facebook Campaign! Special Prizes from our sponsor, Canon
Marketing (Philippines), Inc., will be given away including a printer and a
camera to two lucky winners. Anyone can participate by following these
steps:
1) Follow the Eigasai PH Facebook Page https://www.facebook.com/eigasaiPH 
and like the pinned post: EIGASAI COMES TO BAGUIO!;
2) Share the EIGASAI COMES TO BAGUIO! pinned post and tell us which
film you want to watch during EIGASAI and why;
3) Add the message: "Join the EIGASAI at SM Baguio and FDCP
CINEMATHEQUE!" and make sure to use the official
hashtag #EIGASAI2016Baguio. The campaign will run until August 11
noon, and the picked winner will receive the prizes at the Opening
Reception.
Baguio Screening Schedule (Admission: Free)

@
SM BAGUIO CINEMA
AUGUST 11 (Thursday)
7:00 PM Flying Colors ビリギャル (117 min)
AUGUST 12 (Friday)
1:30 PM The Great Passage舟を編む (133 min)
4:30 PM The Little House 小さいおうち (136 min)
7:30 PM Pale Moon紙の月 (126 min)
AUGUST 13 (Saturday)
1:30 PM The Boy and The Beastバケモノの子 (119 min)
4:30 PM KAKEKOMI 駆込み女と駆出し男 (143 min)
7:30 PM Our Little Sister海街diary (126 min)
AUGUST 14 (Sunday)
1:30 PM The Boy and The Beastバケモノの子 (119 min)
4:30 PM August in Tokyo 愛の小さな歴史 (80 min)
7:30 PM The Great Passage舟を編む (133 min)
​​@
FDCP CINEMATHEQUE BAGUIO
AUGUST 15 (Monday)
2:30 PM Chronicle of My Motherわが母の記 (118 min)
5:30 PM Crossroadsクロスロード (103 min)
​*
Additional Screenings of
Crossroads --- ​not mentioned in the official ​EIGASAI e-flyer
August 16 (Tuesday), 17 (Wednesday), 20 (Saturday) and 21 (Sunday)
5:30 PM Crossroadsクロスロード (103 min)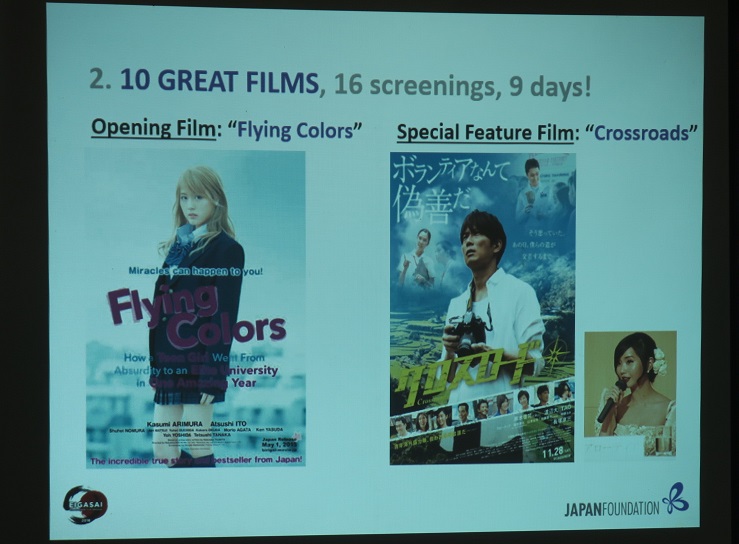 ​​
This year's EIGASAI started at the Shang Cineplex Cinema 2 (July 7
to 17), in celebration of the 60 Years of Philippines-Japan Friendship.
It features over 80 screenings in eight venues across the Philippines
including:
Abreeza Mall Cinema, Davao (July 22 to 24), FDCP Cinematheque, Davao
(July 26 to 30), Cultural Center of the Philippines (July 8, August 6, 9, 10
and 12), SM Baguio Cinema, Baguio City (August 11 to 14), FDCP
Cinematheque Baguio (August 15, 16, 17, 20 and 21), Ayala Center
Cebu (August 17 to 21) and UP Film Institute (August 17 to 20).
Please use the official hashtag #EIGASAI2016, #EIGASAI2016Baguio and #JFmanila when posting about this year's EIGASAI.
EIGASAI is generously supported by Japanese Association in Northern
Luzon, NPO SALUBONG, Japan International Cooperation Agency,
SM Supermalls, SM Baguio City, Shangri-La Plaza, Shang Cineplex,
UP Film Institute, Cultural Center of the Philippines, Film Development
Council of the Philippines, JT International (Philippines) Inc., Canon
Marketing (Philippines), Inc., Mitsubishi Corporation, Japan Airlines Co.,
Ltd., Muji, Crystal Cup Ozeki Philippines, Richmonde Hotel Ortigas,
Akira and SumoSam.
###
​​
About the Japan Foundation, Manila
The Japan Foundation was established in 1972 by special legislation
in the Japanese Diet and became an Independent Administrative
Institution in October 2003. The mission of the Japan Foundation is
to promote international cultural exchange and mutual understanding
between Japan and other countries. As the18th overseas office, the
Japan Foundation, Manila was founded in 1996, active in three focused
areas: Arts and Culture; Japanese Studies and Intellectual Exchange;
Japanese-Language Education Overseas. For more information please
visit our website at http://www.jfmo.org.ph/
​
==============
The below are the snap shots at Press Conference and Special Screening.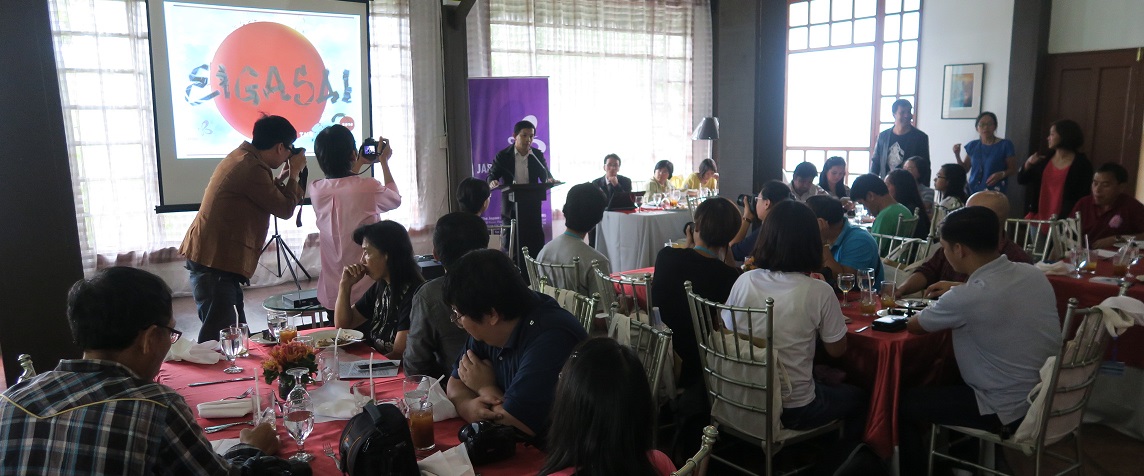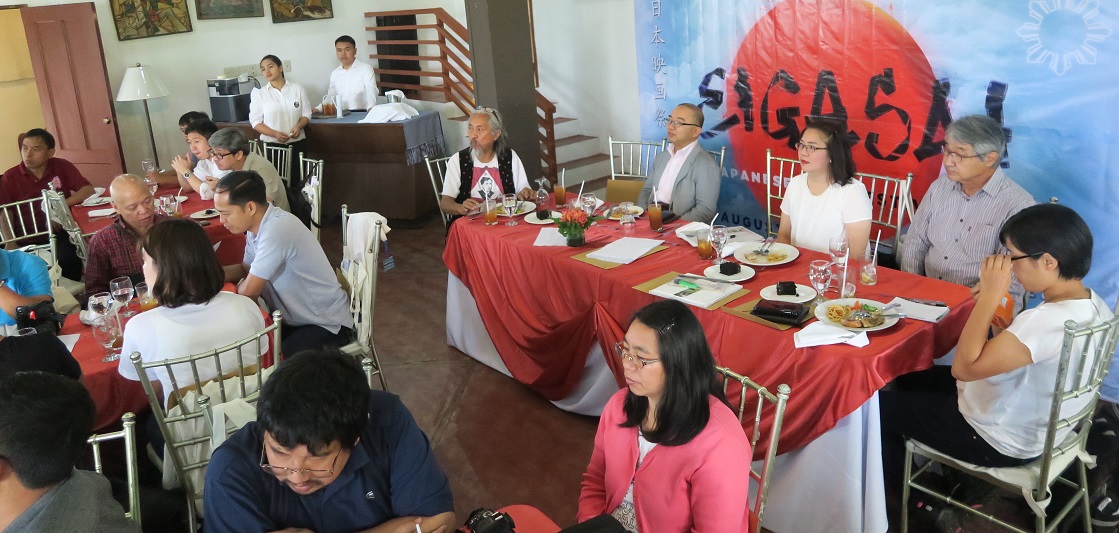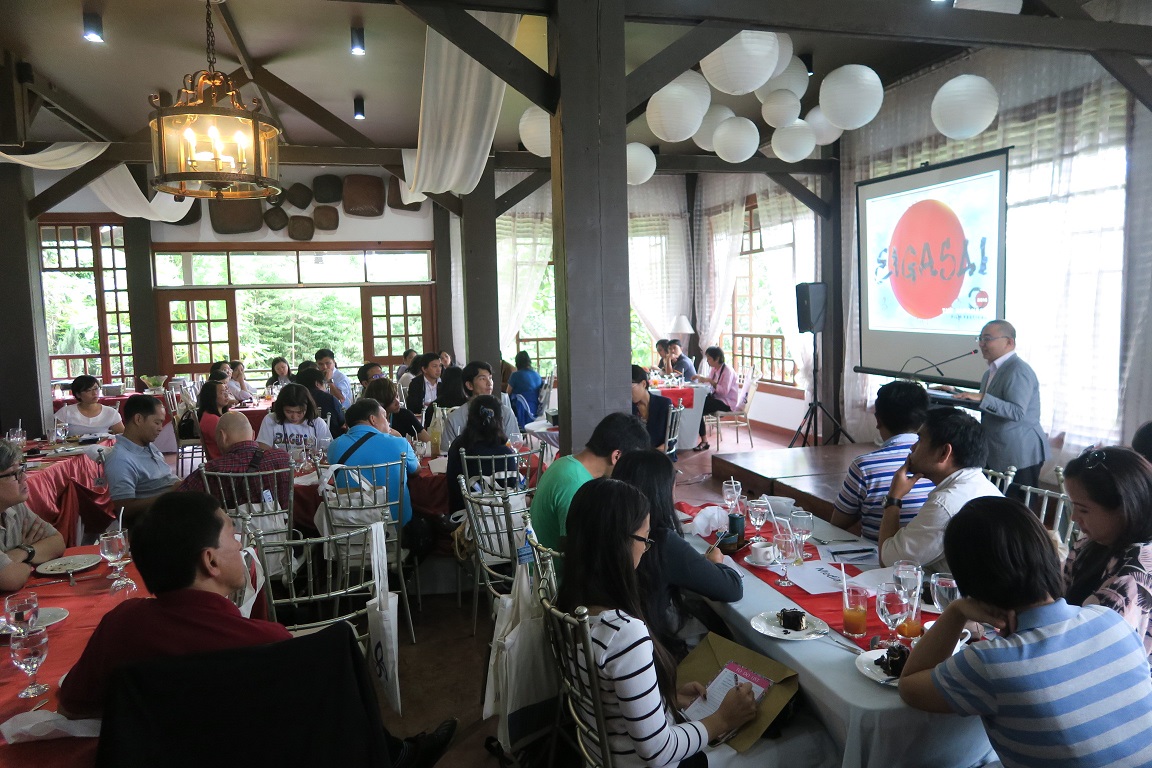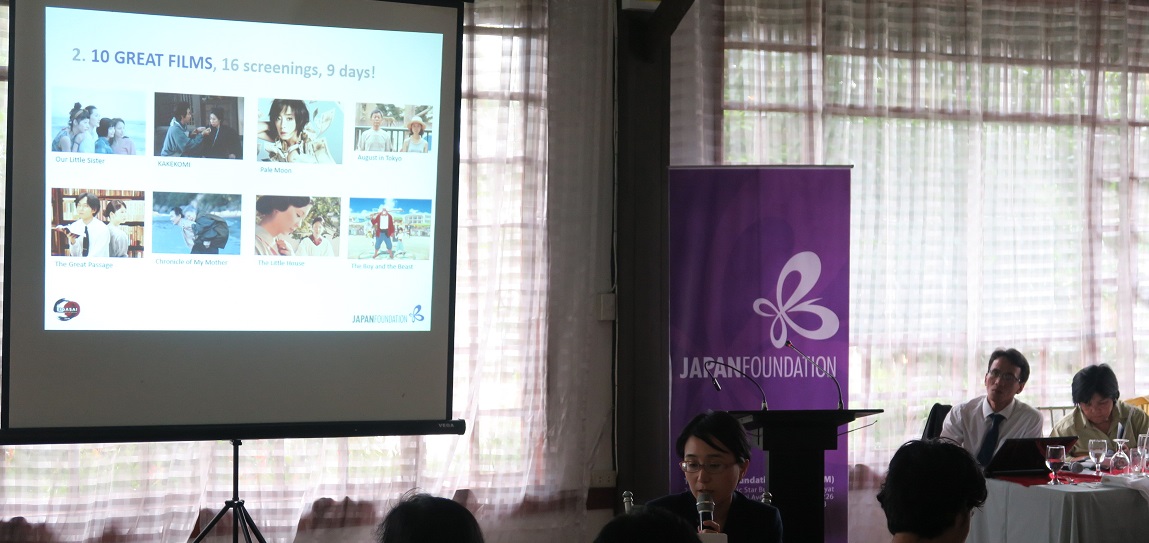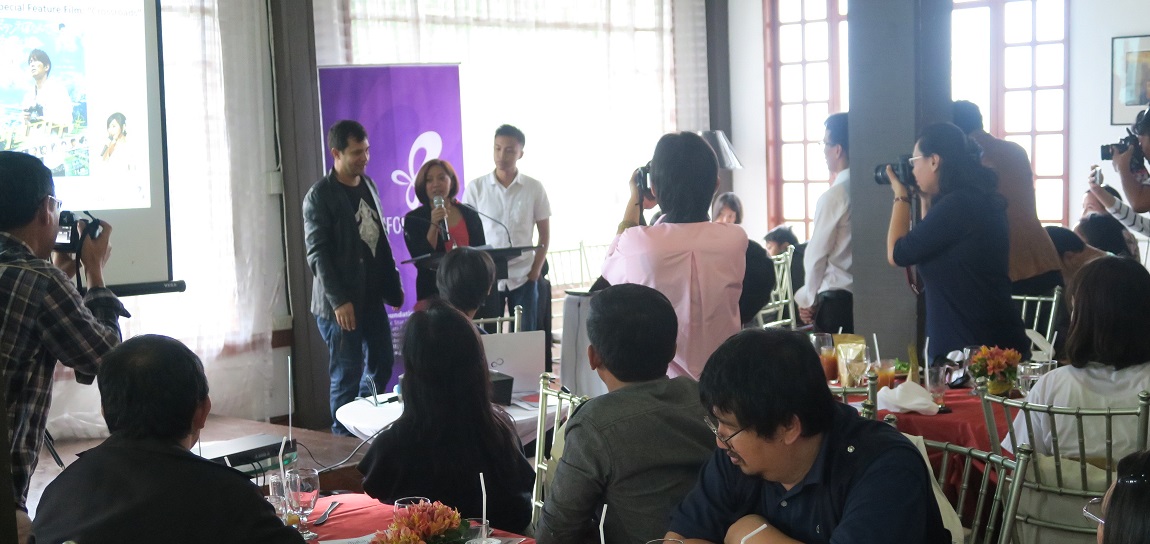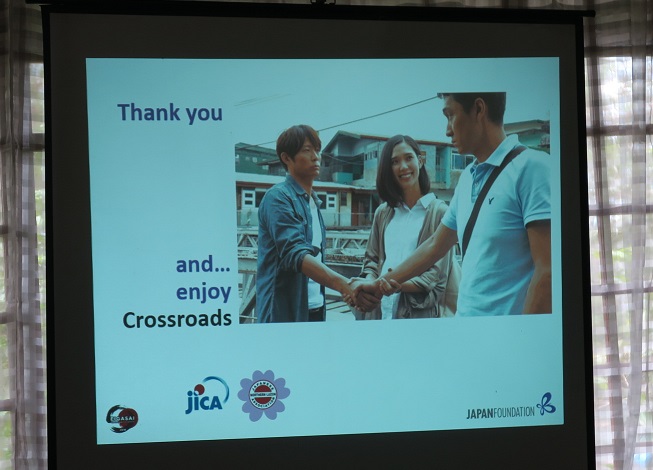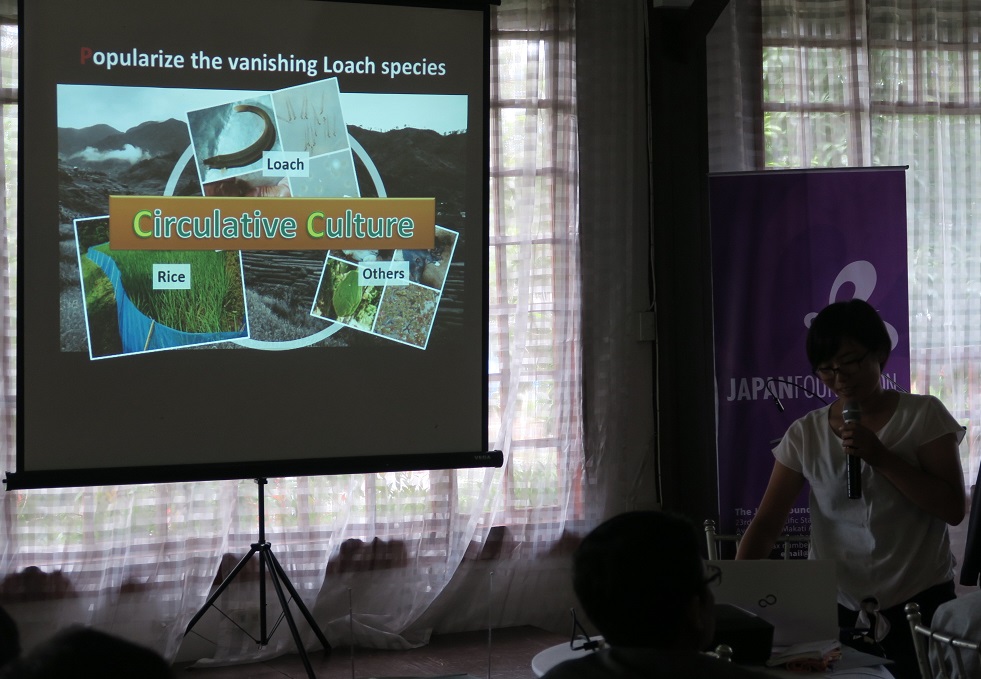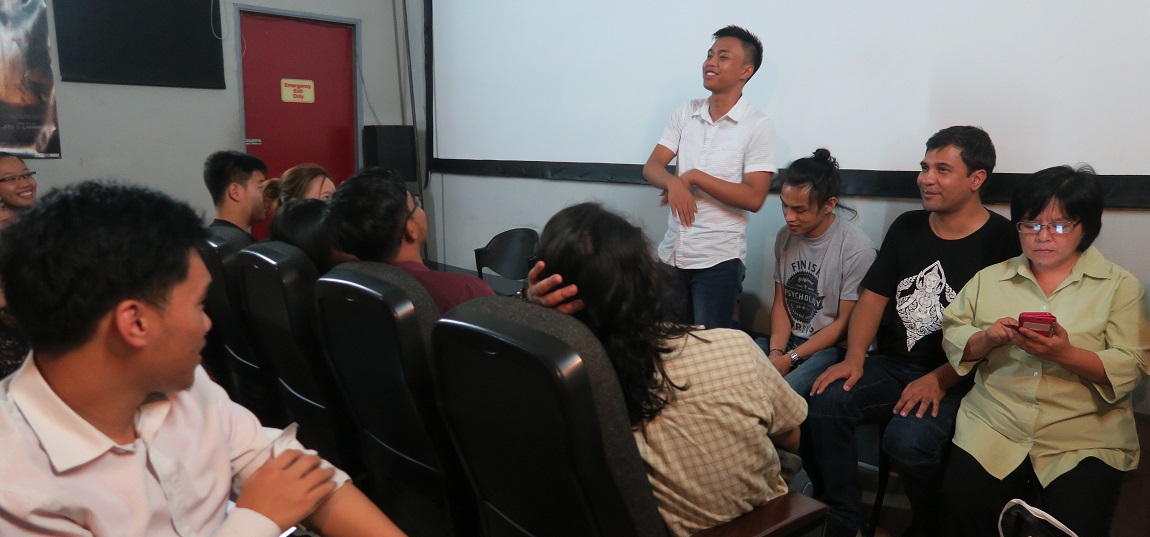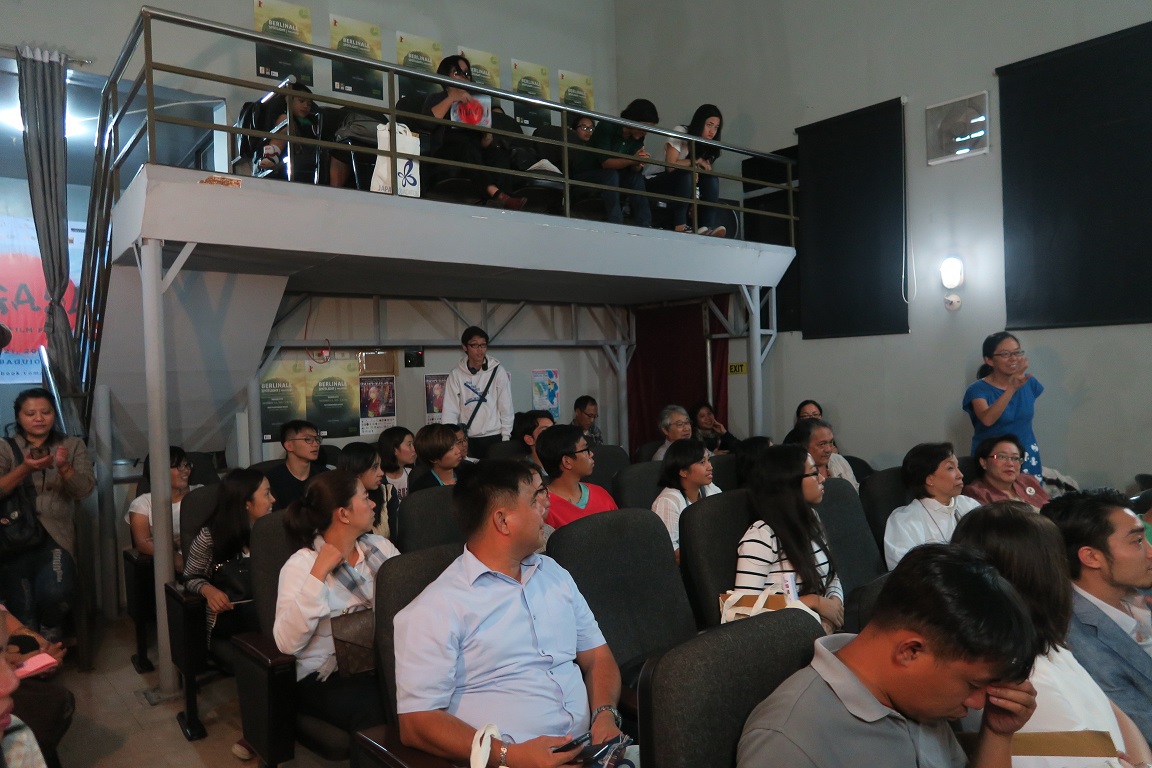 ==== see you at EIGASAI in Baguio !! ==========